VẽrdɩAIR
VerdjAIR
(Verd'AIR)

IATA
"VL"
(proposed)
ICAO
"VEA"
(proposed)
Callsign
"VLADISLAVIA"
(proposed)

Founded
13.06.2017 (de-facto)
AOC №
• not licensed
• KCK 0851 UAV (illegitimate)
Hubs
• PRG
("Václav Havel" Airport Prague)
• SJJ
(International Airport "Sarajevo")
Focus cities
• Prague, Brno
• Sarajevo
Website
• verdair-yu.webs.com
Verd'AIR, (/vɛrdj:ɛjɹ/; vl. VẽrdɩAIR, cz/src. VerdjAIR) - is the state aviacompany of Verd'landian Republic, which also has impact in New Yugoslavia. Exists as temporary conservated project in first, and as virtual airline in second one.
History and condition
While creating of Vladislavia, Vladislav Chokin have already founded state's transport companies at ground, sea and air. But last one - "Aviatransport of Vladislavia", was abandoned and ready to be liquidated. But at 12th June 2017, the President of CFRY proposed cooperation in this area. Chokin have agreed, but divided company into 2 parts, because two micronations have different plans to it.
In Vladislavia, this company is considered as department of Commissariat of Infrastructure and Transport of Rixdag, which is ready to start working in full-valuable regime if micronation has any flying stock and license. Temporary, Rixdag is not operating its own air company.
In Yugoslavia it is considered as virtual, and local government virtually controls virtually claimed ownership. On 28th June 2017, New Yugoslav part of United Aviatransport of Vladislavia got its AOC (KCK 0851 UAV).
Ownership
V.Chokin named the company "federative". It has two different parts, and every part is ruled by each micronation independenty from other.
In Vladislavia
100% of Vladislavian part of company is completely owned by Government.
In CFR Yugoslavia
Yugoslavian part of company is owned predominantly by Government.
Owner
Percent
Government of CFRY
NJAT Airways
Jugoslavensko Javno Dobro[1]
(JJD, eng. Yugoslav Public Good)
Planned fleet
Subsidiary of Vladislavia
Subsidiary of New Yugoslavia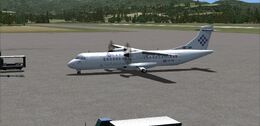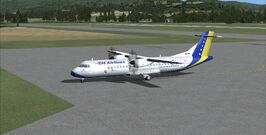 Aircraft
In fleet
Orders
Registration
Notes
Airbus A320
-
1
- CK - VAA (TBA August 2017)
ATR72-500
2
1
- CK - VAD

- CK - VAE (TBA 2017)

- CK - VAB (B&H Airlines)

- VAB operated for B&H Airlines
Airbus A319
-
1
- CK - VAC (TBA)
Boeing 747 (F)
-
-
- Cargo division TBD
Boeing 737
-
1
- CK - VAF (TBA)
Destinations
New Yugoslavia
2 new destinations are created from Sarajevo and the other one to Ljubljana will be launched shortly...
| Origin[2] | Destination | Timetable | Date of Launch | Flight Number(s) | Aircraft |
| --- | --- | --- | --- | --- | --- |
| Sarajevo (H) | London Heathrow | TBA | TBD | TBD | Airbus A320 (CK - VAA) |
| Sarajevo (H) | Brașov(H) | TBA | TBD | TBD | Airbus A320 (CK - VAA) |
| Sarajevo (H) | Ljubljana | - - - - F - - | 7th July 2017 | | ATR72-500 |
Vladislavia
Rixdag plans to establish right transit between cities, nearest to Vladislavia. It proposed only one regular retrovoyage on Douglas DC-3. Besides this, some touristic routes are planned.
| Origin | Destination | Timetable | Date of Launch | Aircraft |
| --- | --- | --- | --- | --- |
| Prague | Brno | 1 per week | not launched | DC-3 |
Images
References
↑

By law, ALL public enterprises in New Yugoslavia must give a right to all of the CFRY's citizens to decide the enterprise's organisation. This priority is given by at least 1% of the enterprise's ownership... Applying this rule also gives some minor exclusive rights to the CFRY citizens in terms of prices of services (VAT, or PDV in CFRY, can be payed during the final tax return). For this enterprise, these rights only apply for the CFRY's services within the airline...

↑

(H) - Hub