| | |
| --- | --- |
| | This article is a stub. You can help MicroWiki by expanding it. |

United Scotannaea is a political party in the Republic of Scotannaea founded in November 2013. It's ideology is to keep traditional values within the country, create a social democracy where everyone has a chance to change by participating in elections. And it's other aims are to commence the reunification of Scotannaea and gain more land across the world, And create tougher policies on education to make the economy even stronger.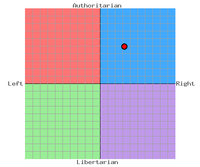 History
United Scotannaea currently holds 2 seats in the National Assembly of Scotannaea but will have to wait until the next Scotan General Election to see which seats United Scotannaea will occupy in the National Assembly.
On 10 November 2013 Georgy Vovk was appointed the chairman United Scotannaea. The new party leadership is going to create between other parties "Democratic coalition". Formation will begin in December 2013. The ideology of party was changed from a socialism and conservatism to Christian democracy and conservatism.
In 2014 the party is going to participate in parliamentary elections as "The democratic coalition".
On 12 January 2014 the party exposed became the participant of parliamentary elections in Scotannaea.
Party leadership
Georgy Vovk - the president of party
Roman Yurkin - the vice-president of party
| | |
| --- | --- |
| | This article, United Scotannaea, has been requested to be deleted by the user who created this page, any abuse of this template may result in a ban. Please, create a talk page for this issue. |